Love it  or hate it, The Magic Cafe appeared on the scene at just the right time. A resurgence of interest in Magic, more powerful Forum software and more widespread usage of computers in the general population came together to give us … the behemoth often called  "the green place."
The place is packed with giant egos, bluff,  bravado, name calling, cat fights and general bitterness. It's design and functionality is stuck  15 years behind the times and it's sometimes apparently arbitrary  decisions  on behalf of the administrators drive many to despair and abandonment.
Which is a pity, because it also has some great people, fantastic  treasures buried away in long threads waiting to be discovered, sage advice from experts & working pros and even visits from assorted magical celebrities,  sometimes in disguise. It's also so vast that as your interests change and develop within the craft you will find new corners and new communities to explore.
Yes, there is a FAQ and other How To information scattered around the sprawling site, but here's our  brief guide for getting the most of your time there.
# Use your real name
Go on, I dare you. If you want your comments to be taken seriously or your questions to be answered fully,  best practice is not to hide behind an avatar and a pseudonym. If you already have your account set up you can ask the admins to change it.
# Put up a Signature File
It's not that complicated to put a signature and active link back to your website if you have one.
Not only is this a source of traffic, it's a valuable SEO bonus coming from a large authority site and it also gives people a bit more context when they read your questions.
# Don't get Obsessed by the Closed Forums
Newcomers to the Cafe, often obsess with the perceived treasures hidden behind the locked walls of the closed forums. The 50 Post restriction to entry is often taken on like a personal challenge and a flurry of short posts are dropped around to crank up the total. Don't do it. You'll quickly develop the wrong sort of reputation, it's just not worth it.
 # Someone is wrong on the Internet
Randall Munroe famously encapsulated the whole Forum experience hilariously in his one frame comic Duty Calls, first published in xkcd.com.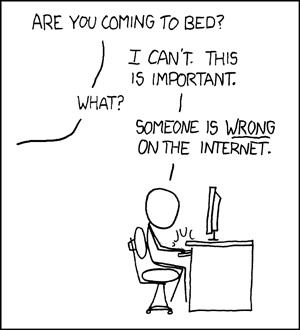 You don't need to correct every mistake you see or attack every position you don't agree with in the forum. It's just not possible. And often those "mistakes" and "positions" you read were placed there just so you would react.
 # The "search" function
The search function has been a bone of contention at the cafe for many years. Some saw it as a prime example of the inflexibility of the administrators, others as a limitation of the hardware and software.  There was a major upgrade last year that has improved  things but it's still not best practice when you look at other large forum sites
A work around that many use is  entering this phrase into Google.
(Obviously replacing   "cups and balls"   with your own search criteria.)
site:themagiccafe.com cups and balls
# Background Checks
It's always good to have a quick peek at someone's site especially if they are loudly spouting forth advice on web design, search engine optimisation or the best way to do a Diagonal Palm Shift. It's often quite revealing.
# Reviews
Take most product reviews you read on the Cafe with a large grain of salt. Many are written by authors themselves under different names ("sock puppeting," I believe it's called) or with the collaboration of friends. A good strategy is to seek out people you know or trust in your area of  interest and watch out for their comments about particular things. Or send them a PM (Private message) and ask their opinion.
# Magicians helping Magicians
The famous quotation at the top of the Cafe doorway is often mocked, but the sentiment is a good one. As Zig Zigler  said –
"you will get everything  you want in life if you just help other people get what they want."